TWO FORMS OF PLASMA USED IN MEDICINE
Plasmend Medical
Non-Thermal Plasma (NTP)
Creates plasma at the treatment site using the patented Plasmend dielectric barrier discharge (DBD) electrode handpiece. NO CARRIER GAS REQUIRED
Plasma is created at room temperature without thermal tissue damage.
Plasmend NTP handpiece has two different DBD sizes to treat small lesions and larger surface areas.
Short treatment times of 1 to 2 minutes for clinical efficacy.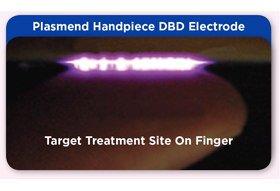 Jet Plasma
Jet plasma creates plasma distant from the target site and carries the plasma to the site via a gas such as helium, argon, or nitrogen.
Jet plasma has a thermal component and may burn tissue.
Jet plasma treatment is slow with small treatment areas compared to Plasmend NTP treatment.